Welcome to my stop on the STINGER AND BOW tour.
About the Book:
Stinger needs a new crossbow.
Thirteen year-old Rachel Silver—or as she's known to the world, Stinger—needs a new crossbow. Her last bow failed her when she needed it most. Besides, Firebird Alex, her aunt and fellow Seduman—half-human, half-spirit being—wields a Sedu blade, made with spirit magic.
So Stinger designs herself a magic crossbow, then convinces her best friends to accompany her around the world and into the universe of Sediin to find the right craftsmen to have it made. Trouble is, warriors attract people who want to challenge them, whether they're ready or not. Stinger is still tormented by her last battle—she's suffering night-terrors, shakes, and cold sweats. When the situation turns deadly, will she be able to come to grips with her trauma and become the warrior she needs to be to save her friends?
My review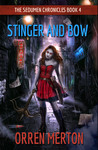 Stinger and Bow by Orren Merton
My rating: 3 of 5 stars
3 and a half stars from me.
In our world, Rachel is a thirteen year old girl with a complicated history, having lost her mother to illness and her foster father to murder. The book begins with her losing her temper with a fellow student, and inflicting an acid burn to the girl's face.
We quickly discover that Rachel is also known to the world as Stinger, a human/spirit hybrid, who is the sidekick to the famous superhero, Lady Firebird. Rachel's remorse when she realises the damage she can do by simply losing her cool, is a good starting point to engage our sympathy for her tricky situation.
This is the 4th volume of the Sedumen Chronicles, but is designed to stand alone for those who haven't read the earlier books, and I found that to be one of the best facets of this novel. It's extremely hard to bring a reader into a complicated fantasy world with already fully developed world building, and Merton did an excellent job of accomplishing that; I never felt out of my depth with the characters or the awesomely imagined spirit world, and how they all interacted with the 'real' world.
The writing is smooth, easy to read, and engaging, (although I did come across around a half dozen small issues, mostly missing words, with the odd incorrectly used word and a few tiny viewpoint glitches – not too many, just enough to notice). The dialogue is great – always a big plus – and although I'm not a fan of present tense, it was well done in this case.
My main problem was the plot. Or rather, the lack of it.
The blurb does a good job of describing the plot. Unfortunately, none of it happens until so far into the novel, I was starting to wonder why I was reading it. First mention of the crossbow is at 25% of the way in, and the first threat (which actually turns out to be a dangling thread for the next book) turns up at around 50%. There are whole chapters that, while very pleasant, don't advance the plot. The actual villains don't appear until the climax, with only the tiniest hint that anything might be amiss just a few chapters earlier.
I realised near the end, that the main thrust of the story is about Rachel coping with things no child her age should have to confront, but that wasn't made clear by either the blurb or the narrative focussing strongly on that issue.
Don't get me wrong, I enjoyed this enough to want to go back and read the earlier books and become acquainted with Alex's story and learn more of the spirit world, which sounds like a wonderfully imagined place. I just feel that this book might have had more impact if it had been even shorter than it is, and tighter in construction.
The ending is the best bit, so it was worth getting there. I just found my attention wandering too often to find a higher rating.
About the Author:
Orren Merton started writing fantasy and science fiction at an embarrassingly young age. In high school, he picked up guitar and start playing up and down California in a few loud and moody bands, culminating in his current project Ember After.  During that time, magazines, developers, and corporations began to pay him to write and edit music software related articles, manuals, and  books. Since then he has written the urban fantasy novel The Deviant and the science fiction novel Skye Entity before working on The Sedumen Chronicles, his current series of urban fantasy YA novels. He lives in Southern California with his family, pets, collection of sci-fi/fantasy memorabilia, and curiously large stuffed animal collection.
***
GIVEAWAY:
One winner gets a Kindle and digital copy of Stinger and Bow (US)
One winner gets a $25 gift card & digital copy of Stinger and Bow (INT)
Ends March 2nd
Prizing is provided by the author, hosts are not responsible in any way. Must be 13 or older to enter and have parental permission if under 17. Void where prohibited by law. No purchase necessary to enter.
This event was organized by CBB Book Promotions