Title: Masters of Time, A Sci-Fi and Fantasy Time Travel Anthology
Authors: Alesha Escobar (Featured author), Samantha Lafantasie, Timothy C. Ward, H.M. Jones, Devorah Fox, and Alice Marks
Publication Date: July 13, 2015
Genre: Sci-Fi, Fantasy, Time Travel
Synopsis
A clone who usurps his own destiny–and with it, the power of Time. A time travel romance that would defy death, and an alluring agent from the future hunting her prey…
Imaginative and heart-pounding stories are woven into the fabric of this time travel short story collection. From adventure to loss, hope and sacrifice, each tale touches upon the precious value given to Time, and what we'd do with it, if we were its masters.
The Masters of Time sci-fi/fantasy time travel anthology is presented to you by USA Today bestselling author Samantha LaFantasie, Alesha Escobar and Devorah Fox, Hugo Award nominee Timothy C. Ward, B.R.A.G Medallion honoree H.M. Jones, and Alice Marks.
My Review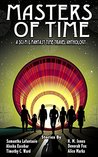 Masters of Time: A Science Fiction and Fantasy Time Travel Anthology by Charmaine M. Young
My rating: 4 of 5 stars
This anthology of time travel presents six truly diverse stories about an always challenging theme.
The pitfalls of time travel stories are many and varied, but these short stories all focus on the characters more than the mechanics, making them highly engaging even if, as a reader, you are dubious about the subject.
My favourite was 'End of the Road', in which six-year-old Maddie steps off the back of her grandmother's sofa and into an enticing painting to follow the seemingly endless road depicted there. She arrives eventually at a plantation back in the bad old days of slavery and governesses. Mistaken for a visiting cousin, and confused by their lack of modern amenities (not to mention fast food), we see the era through the eyes of a child – wondrous at first, then quickly becoming terrifying as the prospect of being stuck there looms large.
Logan 6 drew me in too. Logan knows he's a tool – a clone designed to survive time travel – his purpose: to travel into the future to kill the mysterious Adam. But things are not as simple as they first appear; when Logan starts to uncover the fates of his predecessors, and Adam's true identity, he must decide where his loyalties lie.
'Staring Into' is a really unique take on time travel when Andy believes he may be able to save the love of his life instead of having to mourn her. Skilfully written, the breathless ramping up of tension is notably well done.
'Turning the Tide' will appeal to all writers – what if you could re-write history to change the outcome? Such tiny changes at critical moments to cause time ripples, leading to new destinies for the author's two beloved husbands.

'The Ghost of Time' starts as another take on Time Cop – agents (ghosts) sent back in time to terminate 'jumpers' who threaten the time line. But why is January's memory so hazy? And can she believe her latest target when he turns out to be a veteran ghost who has chosen to stay in the past. I was a touch irritated by the rather open ending of this one.
'The Light Storm of 2015' was my least favourite, for the sheer idiocy of the character's behaviour in deciding to fly a small plane right into a mysterious lightning phenomenon in the vague hope of it taking them back in time. At its heart, though, is a story of love and loss, and the desperate lengths one might go to, to turn back time. It does have a lovely ending.
With such a variety of tales, there's bound to be something for everybody, and all are well written, edited and presented, so if you feel enticed by any of these little snippets I've shared, I'd go ahead and purchase – I'm sure you'll enjoy several or maybe all of them.
Alesha Escobar writes fantasy to support her chocolate habit. She enjoys everything from Tolkien and Dante to the Dresden Files and Hellblazer comics.
She resides in California with her partner-in-crime, Luis Escobar, a 20-year art veteran on The Simpsons television show. Alesha is the author of The Gray Tower Trilogy, an action-packed supernatural spy thriller set in an alternate 1940's. The trilogy books have hit the Amazon bestsellers lists for Historical Fantasy and Mashups.
You can find Alesha at her weekly blog, Fantasy, Mashups, & Mayhem, where she discusses fantasy and science fiction TV shows, movies and books, and celebrity gossip.
She's just kidding about the celebrity gossip.
Goodreads | Amazon | Barnes & Noble | iBooks | Smashwords | Kobo